Ok, so I have just made this page because I think that the cats need their own page on the family website, as they are part of the family!
Tessa (R.I.P. 2005 – 2023)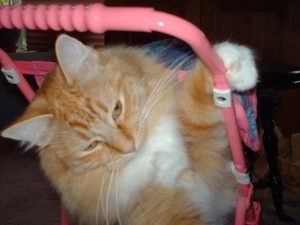 We got Tessa as a kitten for a Christmas gift 2005. She was cute for awhile, then she went from "little puff ball" to "gigantic (and fat) lion". It's kinda pathetic, but we still called her baby. She passed away February 2023 from an unknown illness.
Rosy (the cool cat)
Rosy was a street cat and had kittens while in the SPCA Red Deer. We needed a mouser when we moved into the trailer on the acreage and she was hired gun.
When we moved into the house she was honourably discharged from active service duty. It has been a difficult adjustment but she soldiers on.